Residential & Commercial Infloor Heating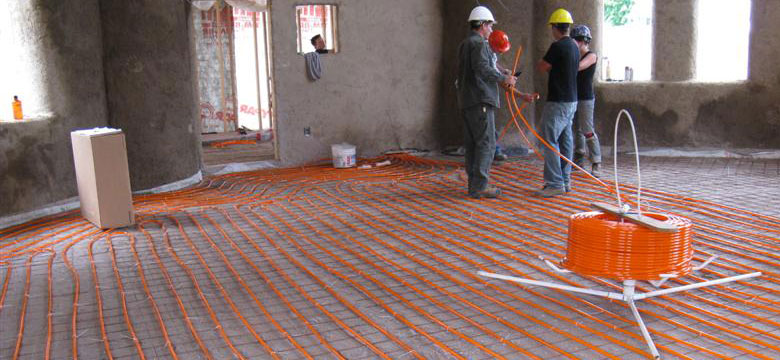 Radiant infloor heating systems in Windsor homes and businesses are becoming increasingly popular.  Infloor Heating dates back thousands of years to the days of the Romans, however the technology used today is very different than that from a millennia ago. Radiant infloor heating can be in the form of hydronic, electric or air. Modern radiant floor heating systems use hydronic (water) technology, as they are extremely cost-efficient and eco-friendly requiring little electricity to operate.
Radiant in floor heating benefits:
Increased comfort with even temperatures and cleaner air
No cold drafts or visible ductwork and floor vents
Much quieter operation compared to forced-air heat
More efficient heating
No moving air – a huge benefit for allergy sufferers
Great for snow and ice melting
Saves up to 40% in energy costs
With the hydronic radiant floor heating system, warm water flows through tubes located underneath the floors. That warmth radiates up, heating the floors to give you a more comfortable experience. Radiant infloor heating is compatible under any type of floor covering, mostly commonly concrete.
Whether it's a furnace, boiler, or heat pump issue, you can count on Urban Heating and Cooling to keep you warm throughout the winter while saving money on your fuel bills. Our highly experienced, licensed and insured service technicians will give you peace of mind, ensuring your equipment operates safely and efficiently.
For more information or a free quote on radiant infloor heating, contact us. One of our highly skilled technicians will be glad to help you.
Service Area
Urban Heating and Cooling serves the Windsor/Essex County market including but not limited to: Windsor, Amherstburg, Belle River, Essex, Kingsville, LaSalle, Leamington, Stoney Point, Tecumseh, Tilbury, Wheatley and some parts of Kent County.