Furnace Repair – Windsor & Essex County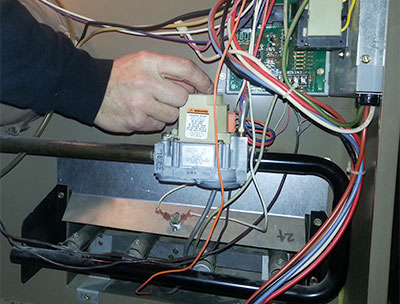 We are Windsor Furnace Repair Experts.  Since 1972 Urban has been repairing all types of furnaces in the Windsor and Essex County region, including the communities of  Tecumseh, Amherstburg, LaSalle, Lakeshore, Essex, Leamington, and Kingsville.  Our heating and furnace repair work is guaranteed and affordable. You will not be left out in the cold by repair work that is unreliable.
We realize that when a furnace breaks down, it can be very stressful. Heating systems always seem to choose the coldest day of the year to cause you problems. While you are scrambling to find someone to come out right away, your home and family are starting to feel the chill.  We will respond as quickly as possible.
When you require furnace repairs, you can be assured that our highly-trained, licensed and insured technicians will be both knowledgeable, polite and efficient. While our technicians are performing repairs on your system, they won't just be fixing what's broken. They will also be looking for other factors that may cause your system to malfunction, or that may make it sluggish and perform inefficiently. A system that is not performing optimally ends up costing you more money.
Furnace Repair to All Makes and Models
A Properly Maintained Furnace:
Keeps operating efficiency high and utility bills low
Helps to extend your furnace life
Helps to protect against costly failures
Gives you peace of mind
All Furnace Repair Service is 100% guaranteed.
Our Repair Services Include:
Repair work to all makes of furnaces, heat pumps, and boilers.
Annual Maintenance Agreements – Maintenance for trouble free and higher operating heating efficiency.
Energy Efficiency Heating Analysis – Let us show you how you can save money on your heating bills.

Urban Heating is also Rheem Pro Partner. We are dedicated to always providing exceptional service and workmanship. Every member of our Rheem Pro Partner team strives for complete customer satisfaction with every job. We offer services ranging from furnace repair to air conditioner maintenance – and everything in between
Service Maintenance Plans
Urban Heating and Cooling offers service maintenance plans to keep your furnace and air conditioner run safely and efficiently.
Service Area
Urban Heating and Cooling serves the Windsor/Essex County market which includes Tecumseh, Amherstburg, LaSalle, Lakeshore, Essex, Leamington, and Kingsville.