Urban Heating and Cooling is a proud to be an installer of Rheem and Navien boilers and water heaters in Windsor and Essexs County.
Rheem Combi Boiler
Rheem – The new Rheem Prestige Series High Efficiency Combination Boilers offer both space heating and domestic hot water in a single unit.
So whether you need the living room to be extra cozy for movie night or you're ready for a hot relaxing bath, the Combi has you covered.
High Efficiency – a 95% AFUE rating means energy savings and potential rebates
Saves Energy – only produces domestic hot water when you need it
Two In One – enjoy both space heating and domestic hot water from one durable unit
Saves Space – frees up valuable space by replacing your boiler and tank water heater
NCB-E  Condensing Combi-Boiler
Navien – Navien Condensing Tankless Water Heaters provide exceptional efficiency by utilizing the .99 Energy Factor. When you need your water heater replaced, an eco-friendly Navien unit is the perfect replacement. Using the ultimate in precision technology and energy efficiency, your Navien unit will provide additional savings for your family in no time.
The first high-efficiency boiler that can provide both heat and domestic hot water
Takes 80% less floor space than a traditional floor-standing boiler
High-capacity for larger homes: can run two showers and a dishwasher while also providing heat
Reduced installation time and service calls
Can be linked to NPE units for larger capacity and increased consumption demands
Programmable control system reduces energy waste and enhanced temperature control
NCB-150E
Max HTG: 60,000 BTU/H
Max DHW: 120,000 BTU/H
NCB-180E
Max HTG Input: 80,000 BTU/H
Max DHW Input: 150,000 BTU/H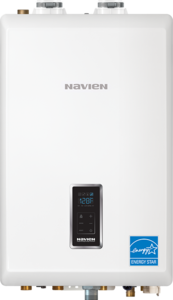 NCB-210E
Max HTG Input: 100,000 BTU/H
Max DHW Input: 180,000 BTU/H
NCB-240E
Max HTG Input: 120,000 BTU/H
Max DHW Input: 199,900 BTU/H
NHB Condensing Heating Boiler
Navien innovation in a compact wall-hung condensing boiler
Compact wall-hung condensing boiler
Advanced burner system with AFUE of 95%
Turn down ratios up to 15:1
High-efficiency to multiple zones
Integrated programmable control system
Can connect up to 16 units with up to 8 units on one vent
All NHB boilers have Navien's advanced burner system, an industry-leading AFUE of 95% and turn down ratios up to 15:1
Now available in four sizes NHB 55, NHB 80, NHB 110 and NHB 150.

NHB-55
Max HTG Input: 55,000 BTU/H
NHB-80
Max HTG Input: 80,000 BTU/H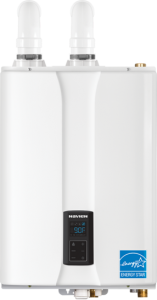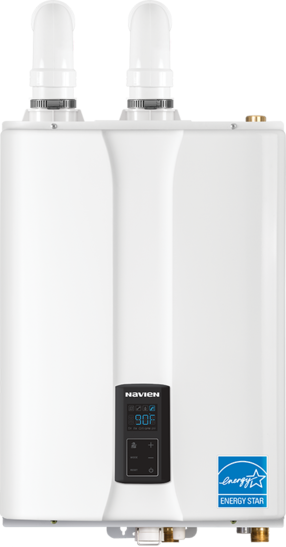 NHB-110
Max HTG Input: 110,000 BTU/H
NHB-150
Max HTG Input: 150,000 BTU/H