Geothermal Heating and Cooling Experts

Urban Heating & Cooling truly are experts of geothermal heating and cooling systems for the Windsor region. They are actually pioneers of geothermal heating, having installed the very first WaterFurnace in North America

Why Geothermal Energy?
Geothermal Energy is efficient, cost-effective, and environmentally friendly. Throughout the year, outdoor temperatures fluctuate with the changing seasons. However, underground temperatures do not. In fact, about four to six feet below the earth's surface, temperatures remain relatively constant year-round. A geothermal system, which consists of an indoor unit and a buried earth loop, capitalizes on these constant temperatures.
Why WaterFurnace Geothermal Heat Pumps?
WaterFurnace manufactures and sells more geothermal systems for homes than anyone else in the business. Providing you with an unheard of 400% efficiency, WaterFurnace systems deliver $4 of free earth energy for every $1 of electrical energy used. The high efficiency of this system gives you incredible energy savings, which usually more than offsets any additional installation costs within the first five years. WaterFurnace systems provide consistent and comfortable heating and cooling. The optional zone control system lets you control the temperature in up to four different areas of your home.
See How Much You Can Save?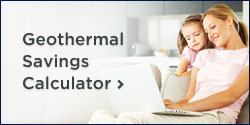 The WaterFurnace reputation for reliability has been earned by using only the highest-quality components, design and workmanship. WaterFurnace systems do not require noisy outdoor units that create unsightly additions to your home's appearance. There is no combustion, flames or fumes and no chance of carbon-monoxide poisoning because natural gas, propane or oil are not required to operate a WaterFurnace unit.
One compact WaterFurnace unit provides heating, central air conditioning and supplemental domestic hot water. High-efficiency air cleaners found in WaterFurnace systems keep your indoor air quality clean, removing dust and pollen so you can breathe easier. Installing a WaterFurnace system is the environmental equivalent of planting 750 trees or removing two cars from the road. No fossil fuel means no harmful emissions or greenhouse gases.

Geothermal Benefits
• Efficiency & Lower Operating Costs – Our WaterFurnace systems provide you with an unheard of 400% efficiency.

• Environmentally Friendly – Geothermal systems eliminate the combustion of fossil fuels on site and dramatically lower the need to generate power – significantly reducing the emission of greenhouse gasses and the environmental damage associated with nonrenewable resource extraction.
• Enhanced Comfort – Geothermal systems use the relatively stable temperature of the earth as an energy source, you are assured of constant, even heating in winter, and better humidity control in the summer – through a single system both your heating and air conditioning comfort is taken care of.
• Flexibility – From houses to office buildings to community swimming pools, and everything in between, geothermal systems can be designed to provide efficient heating and cooling solutions.

• Quieter Operation & Better Aesthetics – Neither outside air conditioning equipment nor chimney. The compact self-contained, interior equipment does not need a noisy, unsightly outside condensing unit that a traditional air conditioner requires. Geothermal heat pumps are quiet and discrete.
• Healthy Indoor Air Quality – Eliminates Carbon Monoxide (nothing burned) and costs for Carbon Monoxide detectors in new residential construction. Eliminates need for exterior wall venting, improving building envelope weather tightness.
• Longest Equipment Life – The government of Canada says geothermal systems last 20% longer and have lowest life cycle cost.
• Safety – No flame, no flue, no odors, no risk from carbon monoxide. It's safe and reliable.
Service area – Urban Heating and Cooling serves the Windsor/Essex County market including but not limited to: Windsor, Amherstburg, Belle River, Essex, Kingsville, LaSalle, Leamington, Stoney Point, Tecumseh, Tilbury, Wheatley and some parts of Kent County.
For more information on geothermal energy and geothermal heat pumps, call us to find out the possibility of adding a Water Furnace to your home.